Nanjing Automobile Import and Export Co., Ltd. ("NAIEC") was founded in 1985 and now is a third-layer subsidiary of Shanghai Automotive Industry Corporation ("SAIC"), the largest auto maker in China.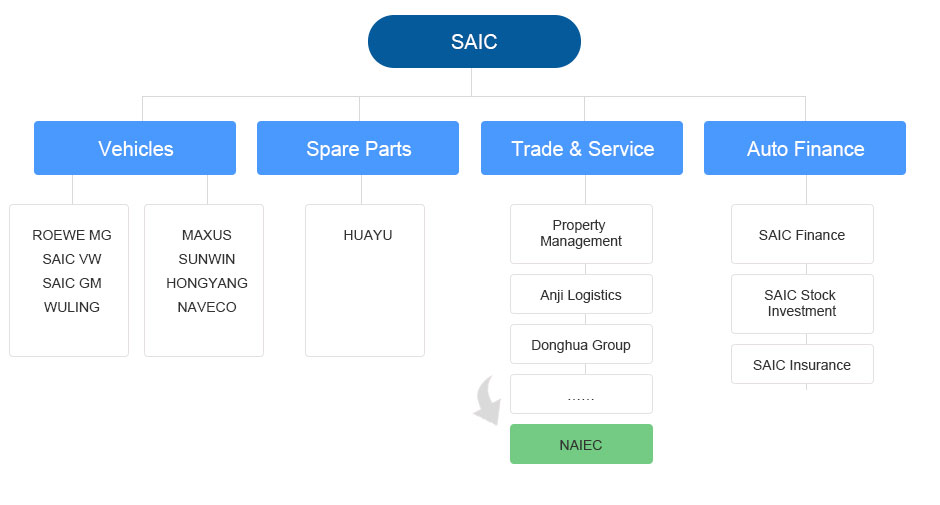 About SAIC Motor
    SAIC Motor, the largest auto maker in China and the 7th in the world, has been committed to R&D, production and sales of automobiles as well as their components, mobility services as auto-related logistics, e-commerce, new energy infrastructure, etc. and auto-related finance, insurance and investment. With sales volume surpassing 7 million units and turnover exceeding 133 billion dollars in 2018, SAIC Motor was listed in Fortune 500 for the 15th time and ranked the 39th in 2019. Aiming to become a company with global competitiveness and brand influence,SAIC Motor will keep transforming its business through sustained innovation, exploring the integration between auto industry and new energy, AI and 5G.
Vehicles

Parts

Mobility Services

Auto Financing

International Business

The 6th largest auto maker in the world
Turnover (2019): USD136 billion
Sales Volume (2019): 7.05 million units
Listed in Fortune 500 from 2004-2019
(No. 39 in 2019)
About NAIEC
    Founded in the year of 1985, Nanjing Automobile Import and Export Co., Ltd. (hereinafter referred to as "NAIEC") is a fully-owned subsidiary company of SAIC MOTOR, which is the largest auto maker in China. As an export base of SAIC MOTOR for commercial vehicles, NAIEC specializes in import and export of various types of auto-related commodities and technologies, including complete vehicles, auto parts, mechanical and electrical products, etc.
    As the first commercial vehicle exporter in China, NAIEC has served as a general overseas distributor of SAIC MOTOR for more than 20 years, in which NAIEC has accumulatively exported some 80000 units of vehicles made by SAIC, established an comprehensive and sound global distribution network and earned customers' trust by providing price-worthy products and well-organized services.
    In auto components field, NAIEC plays an important role in SAIC MOTOR's globalization strategy, representing SAIC MOTOR's abundant resources, including product R&D, manufacturing capacities, QC etc. The product line covers various types of mechanical and electrical products, which have been supplied to both developed regions like the USA and the EU and developing countries in South America, the Middle East and Africa. In addition, NAIEC is actively exploring after-sales markets for SAIC-made vehicles which are running in more and more overseas markets.
    Import is another pillar of NAIEC's business. Acting as a major importer of SAIC Motor, NAIEC has accomplished a series of key import projects, including tech and equipment import for SAIC-IVECO JV establishment, acquisition and transfer of the assets from MG Rover and manufacturing equipment and components for SAIC's JV brand, like VW, GM, etc.
    Following SAIC's strategy of globalization, NAIEC will keep focusing on development and management of overseas markets and at the same time, explore more import opportunities to enrich SIAC's supplying chains and to benefit domestic customers.